Drama for students :presenting analysis, context and criticism on commonly studied dramas-David Galens, Lynn Spampinato, editors
Call # R 809.2 DRA
A guide to understanding drama, featuring entries on separate works, each including an introduction to the story and its author, a plot summary, character sketches, discussion of themes and techniques, information about the historical and cultural context of the work, and a critical overview.
Masterplots-Drama Series-edited by Frank Magill
Call # R 809.2 MAS
Each essay contains birth and death dates, time and place of the work's first performance and publication, the play's setting, and principal characters with brief descriptions. the overview section includes a summary of the action and plot; insights into issues in the play, a description of plot devices, staging techniques and characterization, and a perspective on the critical context.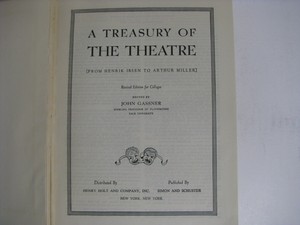 A Treasury of the Theatre: from Henrik Ibsen to Arthur Miller by John Gassner
Call # 808.82 GAS
Includes author biographies and full-text plays.