Skip to main content
It looks like you're using Internet Explorer 11 or older. This website works best with modern browsers such as the latest versions of Chrome, Firefox, Safari, and Edge. If you continue with this browser, you may see unexpected results.
Search the MSC Library Catalog
Please share your opinion by taking the following poll...
traditional paper books: 364 votes (43.86%)
e-books: 466 votes (56.14%)
Library Hours
Monday 7:30 a.m.- 2:45 p.m.
Tuesday 7:30 a.m.- 2:45 p.m.
Wednesday 7:30 a.m.- 2:45 p.m.
Thursday 7:30 a.m.- 2:45 p.m.
Friday 7:30 a.m.- 2:45 p.m.
Mrs. Polseno is currently reading...
November Road

by

ISBN: 0062663844

Publication Date: 2018-10-09

"When people say they want to read a really good novel, the kind you just can't put down, this is the kind of book they mean. Exceptional." --STEPHEN KING NAMED A BEST BOOK OF THE YEAR BY Entertainment Weekly * Washington Post * AARP * Newsweek * Dallas Morning News * South Florida Sun-Sentinel * Chicago Public Library * Real Book Spy * CrimeReads * Litreactor * Library Journal * LitHub * Booklist Winner of the Barry, Macavity, and Anthony Awards, the Hammett Prize, the Left Coast Crime "Lefty" Award for Best Mystery Novel, and the Oklahoma Book Award for Best Fiction Novel! Set against the assassination of JFK, a poignant and evocative crime novel that centers on a desperate cat-and-mouse chase across 1960s America--a story of unexpected connections, daring possibilities, and the hope of second chances from the Edgar Award-winning author of The Long and Faraway Gone. Frank Guidry's luck has finally run out. A loyal street lieutenant to New Orleans' mob boss Carlos Marcello, Guidry has learned that everybody is expendable. But now it's his turn--he knows too much about the crime of the century: the assassination of President John F. Kennedy. Within hours of JFK's murder, everyone with ties to Marcello is turning up dead, and Guidry suspects he's next: he was in Dallas on an errand for the boss less than two weeks before the president was shot. With few good options, Guidry hits the road to Las Vegas, to see an old associate--a dangerous man who hates Marcello enough to help Guidry vanish. Guidry knows that the first rule of running is "don't stop," but when he sees a beautiful housewife on the side of the road with a broken-down car, two little daughters and a dog in the back seat, he sees the perfect disguise to cover his tracks from the hit men on his tail. Posing as an insurance man, Guidry offers to help Charlotte reach her destination, California. If she accompanies him to Vegas, he can help her get a new car. For her, it's more than a car-- it's an escape. She's on the run too, from a stifling existence in small-town Oklahoma and a kindly husband who's a hopeless drunk. It's an American story: two strangers meet to share the open road west, a dream, a hope--and find each other on the way. Charlotte sees that he's strong and kind; Guidry discovers that she's smart and funny. He learns that's she determined to give herself and her kids a new life; she can't know that he's desperate to leave his old one behind. Another rule--fugitives shouldn't fall in love, especially with each other. A road isn't just a road, it's a trail, and Guidry's ruthless and relentless hunters are closing in on him. But now Guidry doesn't want to just survive, he wants to really live, maybe for the first time. Everyone's expendable, or they should be, but now Guidry just can't throw away the woman he's come to love. And it might get them both killed.
Am I Plagiarizing?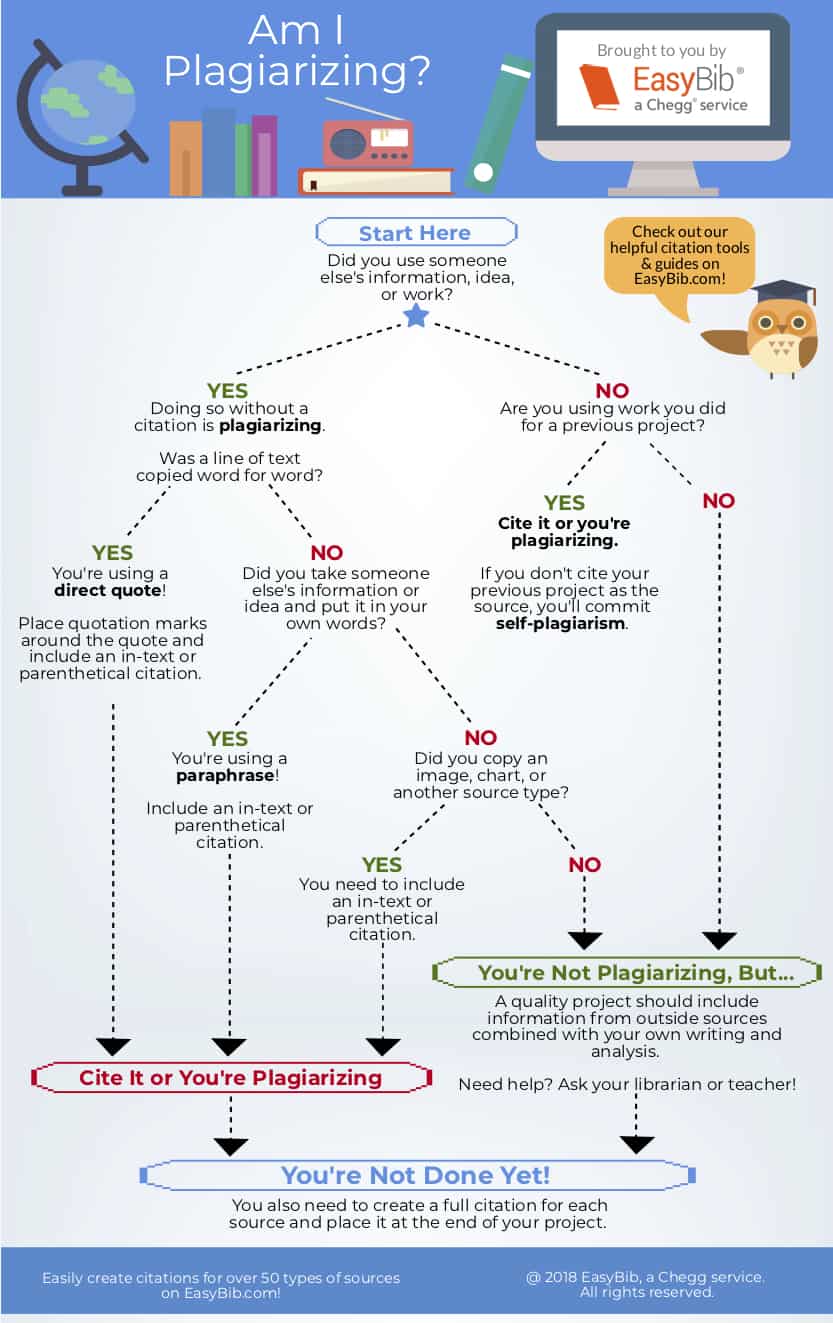 Click here for more great information from EastBib: https://www.easybib.com/guides/am-i-plagiarizing-advanced-infographic/

Paraphrasing vs Plagiarism
Feeling anxious or stressed? Try one of these eBooks!
Mindfulness and Meditation: Your Questions Answered

by

ISBN: 9781440852978

Publication Date: 2018-03-07

This book serves as an approachable introduction to the topics of mindfulness and meditation, especially as they relate to teens and young adults. The information, guidance, and resources it offers make it a valuable tool for anyone curious about this enduring and trending topic.

The Anxiety Survival Guide for Teens

by

ISBN: 9781626252448

Publication Date: 2015-09-01

Do you have problems with anxiety? The Anxiety Survival Guide for Teens is a much-needed, go-to guide to help you finally break free from the worry and ruminations that can get in the way of reaching your goals. If you have anxiety, your fears and worries can keep you from feeling confident and independent. Teen milestones such as making friends, dating, getting good grades, or taking on more mature responsibilities, may seem much more difficult. And if you're like countless other anxious teens, you may even avoid situations that cause you anxiety altogether--leaving you stuck in a cycle of worry and avoidance. So, how can you take control of your anxiety before it takes control of you?

Teens Talk about Anxiety and Depression

by

ISBN: 9781508176398

Publication Date: 2017-12-15

In real teens' voices, this engaging book offers comfort and advice for young people dealing with their own mental health issues or those of a loved one. A compilation of true stories by young adults facing the challenges of anxiety and depression, the book features compelling first-person accounts of panic attacks, suicidal depression, and self-harm, among other topics. Each contributor brings a unique perspective to the discussion of mental illness, and the relatable tone helps readers connect with an issue of great relevance to their own lives.

Open Your I

by

ISBN: 9780761189725

Publication Date: 2016-11-29

Seeing, really seeing, is like meditation. In a world filled with distraction, seeing mindfully is a way to pay attention, to hit pause and find calm by focusing on what's directly in front of us. See Your Way to Mindfulness is a gift book of inspiration and instruction to help readers open their eyes--and their "I's." Written by David Schiller, author of the national bestseller The Little Zen Companion, it's a collection of quotes, prompts, exercises, meditations--married with photographs and drawings that bring the words to life.

Coping with Social Media Anxiety

by

ISBN: 9781508176985

Publication Date: 2017-12-15

Social media is a constant factor in modern life, connecting users from all over the world, but its nonstop nature can cause unhealthy stress and anxiety if people aren't mindful of how they use it. This enlightening book offers a comprehensive yet accessible introduction to the concept of social media anxiety, dispelling many widespread myths and replacing them with up-to-date facts. It will help readers identify whether they are experiencing social media anxiety and offers them reliable strategies for dealing with it if they are. Among other features, a Myths and Facts sidebar helps dispel misconceptions about social media anxiety.

How to Relax

by

ISBN: 9781941529096

Publication Date: 2015-09-18

How to Relax is part of The Mindfulness Essentials series of how-to titles by Zen Master Thich Nhat Hanh, introducing beginners and reminding seasoned practitioners of the essentials of mindfulness practice. Pocket-sized, with original two color illustrations by Jason DeAntonis, How to Relax shows how critical it is to regularly interrupt the hub-bub and routine of our lives to stop, relax mindfully, and recharge.

ISBN: 9781609414887