All book summaries courtesy of Goodreads. If the title of a book is blue, you can click on it to watch a book trailer.
Life on Mars - Written and illustrated by Jon Agee
A young astronaut is sure there is life to be found on Mars. He sets off on a solitary mission, determined to prove [it]. But when he arrives, equipped with a package of cupcakes as a gift, he sees nothing but a nearly barren planet. Finally, he spies a single flower and packs it away as proof that there is indeed life on Mars. But as he settles in for the journey home, he cracks open his cupcakes only to discover that someone has eaten them all!


Bob, Not Bob! - Written by Liz Garton Scanlon & Audrey Vernick, Illustrated by Matthew Cordell
Little Louie is stuck in bed with a bad cold. His nose is clogged, his ears are crackling, and his brain feels full. All he wants is his mom to take care of him, but whenever he calls out for her, his stuffed-up nose summons slobbery dog Bob instead! As Louie tries and tries to make himself understood in this funny picturebook, kids will love calling out with him, "Bob, not Bob!"
Noisy Night - Written by Mac Barnett, Illustrated by Brian Biggs
It's a noisy night in this city building! The residents of each floor can hear their neighbors above them, and are wondering what's going on above their heads. Climb floor by floor and page by page to find out whose singing, dancing, cheering, and cooing are keeping a grumpy old man awake. ... [S]plit-level spreads ... offer the feeling of climbing an apartment building floor by floor.
The Book of Mistakes - Written and Illustrated by Corinna Luyken
As one artist incorporates accidental splotches, spots, and misshapen things into her art, she transforms her piece in quirky and unexpected ways, taking readers on a journey through her process. Told in minimal, playful text, this story shows readers that even the biggest "mistakes" can be the source of the brightest ideas--and that, at the end of the day, we are all works in progress, too.
Now - Written and illustrated by Antoinette Portis
This is my favorite cloud. . .because it's the one I am watching. This is my favorite tree. . .because it's the one where I'm swinging. This is my favorite tooth. . .because it's the one that is missing. Follow a little girl as she takes you on a tour through all of her favorite things, from the holes she digs to the hugs she gives.
The Little Red Cat Who Ran Away and Learned His ABCs (the Hard Way)
Written and illustrated by Patrick McDonnell
It starts with an ALLIGATOR and a BEAR chasing a CAT. When a DRAGON (and a chicken and an egg!) join in pursuit, things start to get REALLY interesting. ... An exciting new take on the alphabet book.
In the Middle of Fall - Written by Kevin Henkes, Illustrated by Laura Dronzek
Everything is yellow, red, orange. Everything is chilly, frisky, gusty. Everything is changing, turning. It's the middle of Fall. Can you see it? Can you taste it? Can you smell it? Can you imagine it?
Triangle - Written by Mac Barnett, Illustrated by Jon Klassen
This book is about Triangle. This book is about Triangle's friend Square. Also it is about a sneaky trick Triangle plays on his friend Square.
Life - Written by Cynthia Rylant, Illustrated by Brendan Wenzel
There are so many wonderful things about life, both in good times and in times of struggle. Through the eyes of the world's animals—including elephants, monkeys, whales, and more—Cynthia Rylant offers a moving meditation on finding beauty around us every day and finding strength in adversity. Brendan Wenzel's stunning landscapes and engaging creatures make this an inspiring and intriguing gift for readers of all ages.
Splat! - Written and Illustrated by Jon Burgerman
See what happens when flipping the page of this gleeful picture book gets you--SPLAT!--a pie in the face, followed by--SQUISH!--an insect sandwich, and--SPLASH!--a deluge of water balloons. Bright colors and appealing visual gags add up to a perfect mess--no cleanup necessary. Get some splatter art ideas from Jon.
Her Right Foot - Written by Dave Eggers, Illustrated by Shawn Harris
In this fascinating, fun take on nonfiction, Dave Eggers and Shawn Harris investigate a seemingly small trait of America's most emblematic statue. What they find is about more than history, more than art. What they find in the Statue of Liberty's right foot is the powerful message of acceptance that is essential to an entire country's creation. Download the teacher guide from the publisher.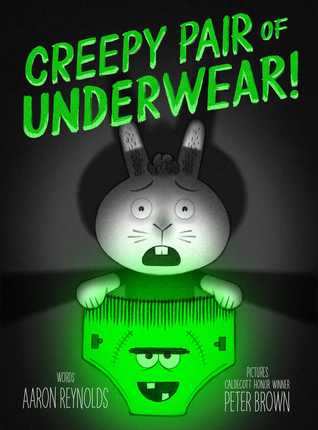 Creepy Pair of Underwear! - Written by Aaron Reynolds, Illustrated by Peter Brown
Jasper Rabbit is NOT a little bunny anymore. He's not afraid of the dark, and he's definitely not afraid of something as silly as underwear. But when the lights go out, suddenly his new big rabbit underwear glows in the dark. A ghoulish, greenish glow. If Jasper didn't know any better he'd say his undies were a little, well, creepy. Jasper's not scared obviously, he's just done with creepy underwear. But after trying everything to get rid of them, they keep coming back! Download the publisher's activity kit.